Digital Services Act: new rules for the internet
Insults, threats and sexual harassment: every second young woman is the target of digital violence on social media. Facebook, Twitter and online platforms alike have so far done too little to combat hate on their platforms.
With the new EU law, the Digital Services Act (DSA), the EU has ushered in a new era for the basic digital rights of users.
HateAid welcomes the EU's strong will to regulate platforms and calls for a fast and consistent enforcement of the new law. Users will be generally better protected from hate speech, threats and insults on online platforms with these platforms subject to a set of rules and obligations, although the deal has not gone far enough to protect especially women from image-based abuse.
Boundless hate: dramatic situation across Europe
How many people in Europe are affected by digital violence? The results of our EU-wide survey from November 2021 are alarming:
50
% of Europeans aged 18 - 35 have already experienced digital violence.
30
% of women fear that intimate images of them could be published online without their consent.
52
% of women express their opinions online less often for fear of hate.
What the new EU internet law means
A new era

for tech transparency

and

online

targeting
Very large online platforms will be obliged to disclose their algorithms and other inner processes
that have caused mistrust and public outcry about intended amplification of hate speech and disinformation. Other transparency measures include granting researchers and NGOs access to platform data in order to conduct research. Now platforms will be obliged to
open up
the so-called black box and cooperate in independent research that will shed
light on their
handling of illegal, radicali
s
ed and discriminatory content as well as disinformation
.
This is essential to assess the risk that they are posing to society at large especially in times of war and election, but also to learn more about how users are drawn to filter bubbles and fall for conspiracy theories, disinformation and radicalisation. However, more work will need to be done to make sure that this transparency transforms the toxic engagement model of Big Tech. 
Furthermore, against massive lobbying efforts by Big Tech, the lawmakers also agreed to stop discriminatory and manipulative targeting on sites with user-generated content through advertising against minors and people based on sensitive data, like religion or sexual orientation.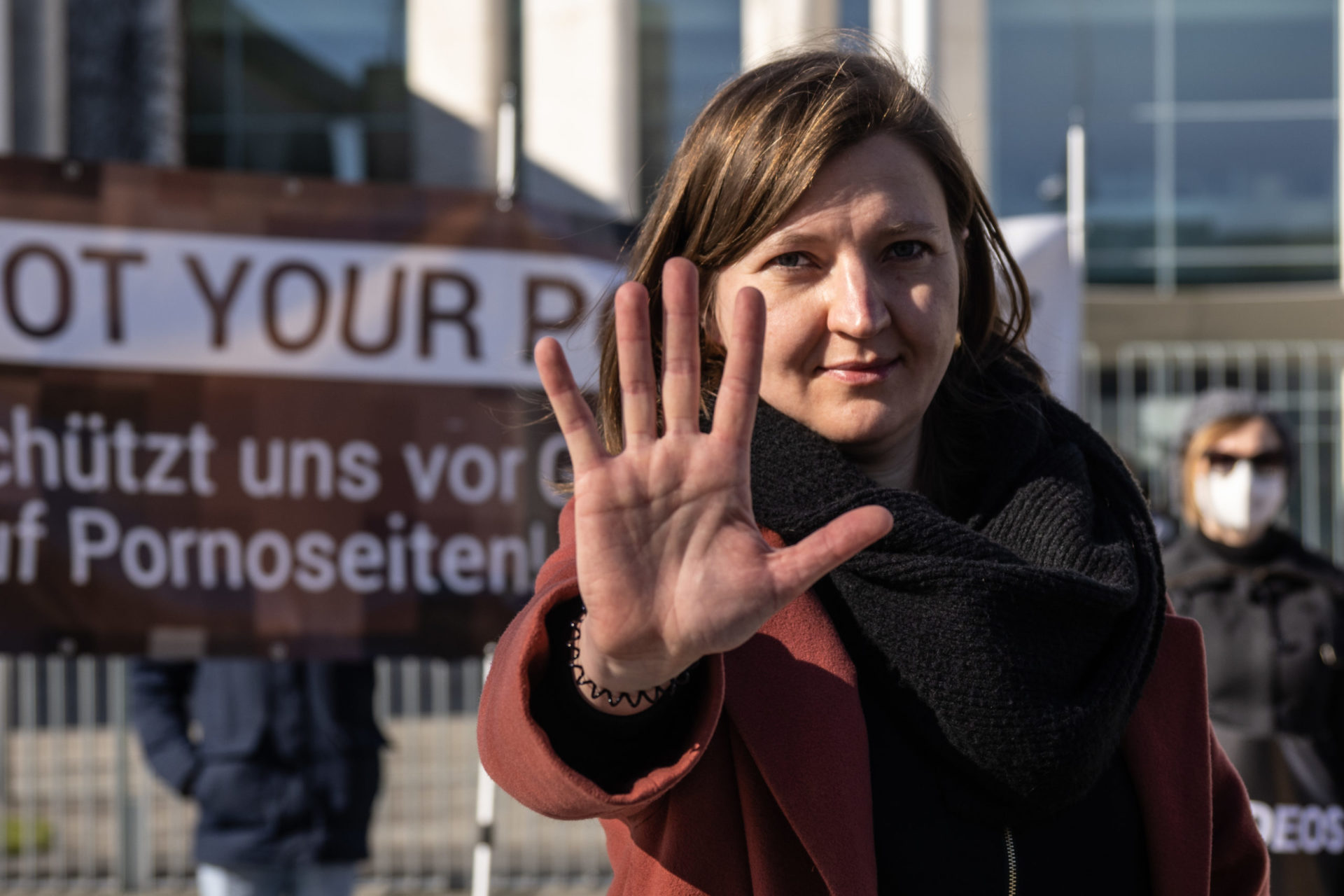 Online platforms must become more transparent in order to give affected users the chance to take action against hatred. Photo: Pexels / Shvets Production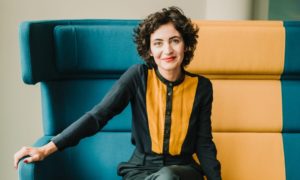 Anna-Lena von Hodenberg, Photo: Andrea Heinsohn Photography

"Social networks have provided a platform for the mass spread of hate and agitation. With the Digital Services Act, we have for the first time an EU-wide law that attempts to stand up to Facebook, Twitter and Co. We will be watching very closely to see how the social networks implement the new obligations. For us, it's clear: if the measures don't bear fruit, we will demand that the EU tighten up on effective protection against digital violence." 
Anna-Lena von Hodenberg, CEO at HateAid 
Das bringt das neue EU-Internetgesetz
What the new internet law means

From Berlin to Brussels:
w
e fought for your rights
With the petition "Stop violence against women online! #makeitsafe", HateAid brought the voices of thousands of EU citizens to Brussels and called for effective measures to protect against digital violence. Through the various actions run together with an alliance of international organisations, HateAid has critically contributed to the legislative process over the past year and given victims of digital violence a voice on the EU political stage. These efforts were supported by a broad coalition of national and international lawmakers, NGOs, activists, and public figures. 
The campaign "Stop violence against women online! #makeitsafe" as part of the Landecker Digital Justice Movement is an initiative of HateAid funded by the Alfred Landecker Foundation.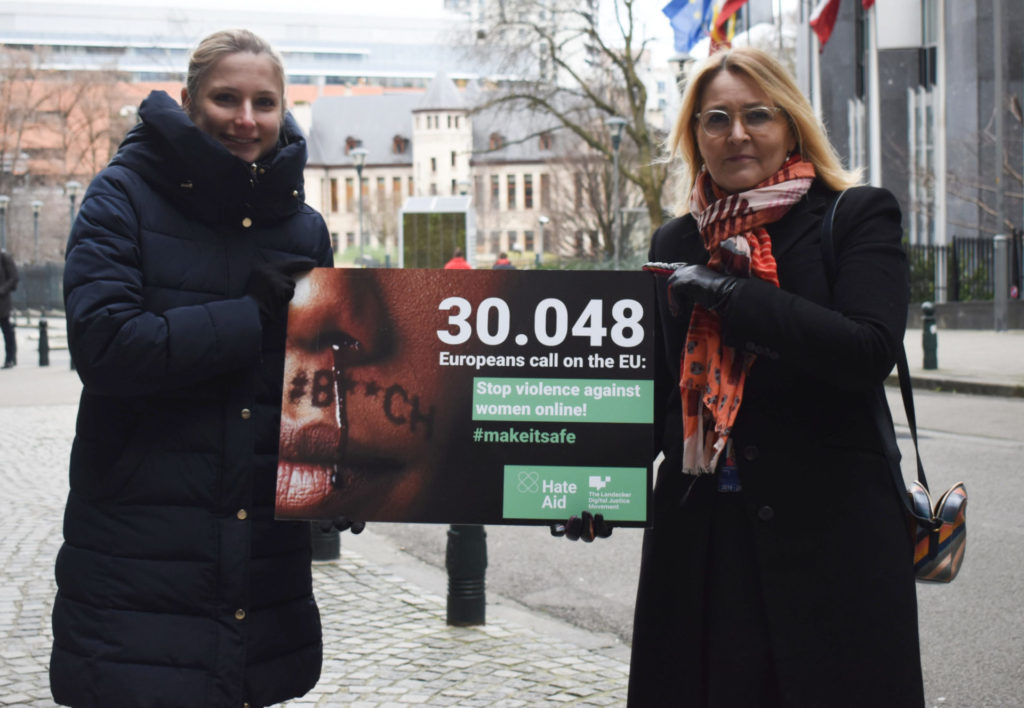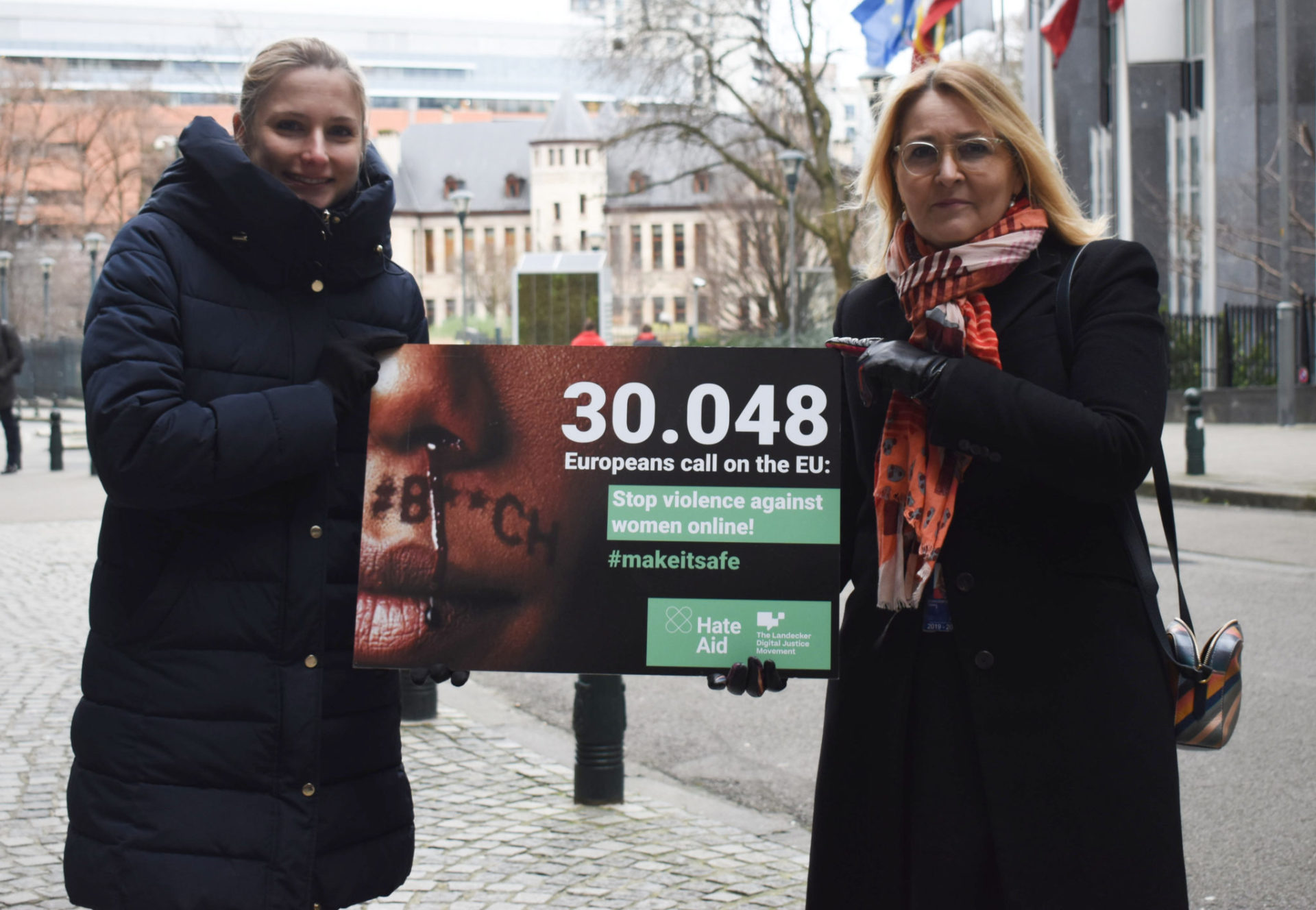 Handover of the HateAid petition with over 30,000 signatures in Brussels: Josephine Ballon, Head of Legal at HateAid & Christel Schaldemose, MEP.
Alfred Landecker Foundation
Our commitment to a better Digital Services Act (DSA) is realised through the financial support of the Alfred Landecker Foundation.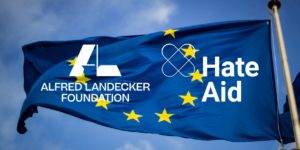 This is how we advocated for a better DSA

 
DSA-Themen im Online-Magazin
Hier findest du aktuelle Artikel, Interviews und Analysen rund um den DSA:
Sorry, no posts matched your criteria.