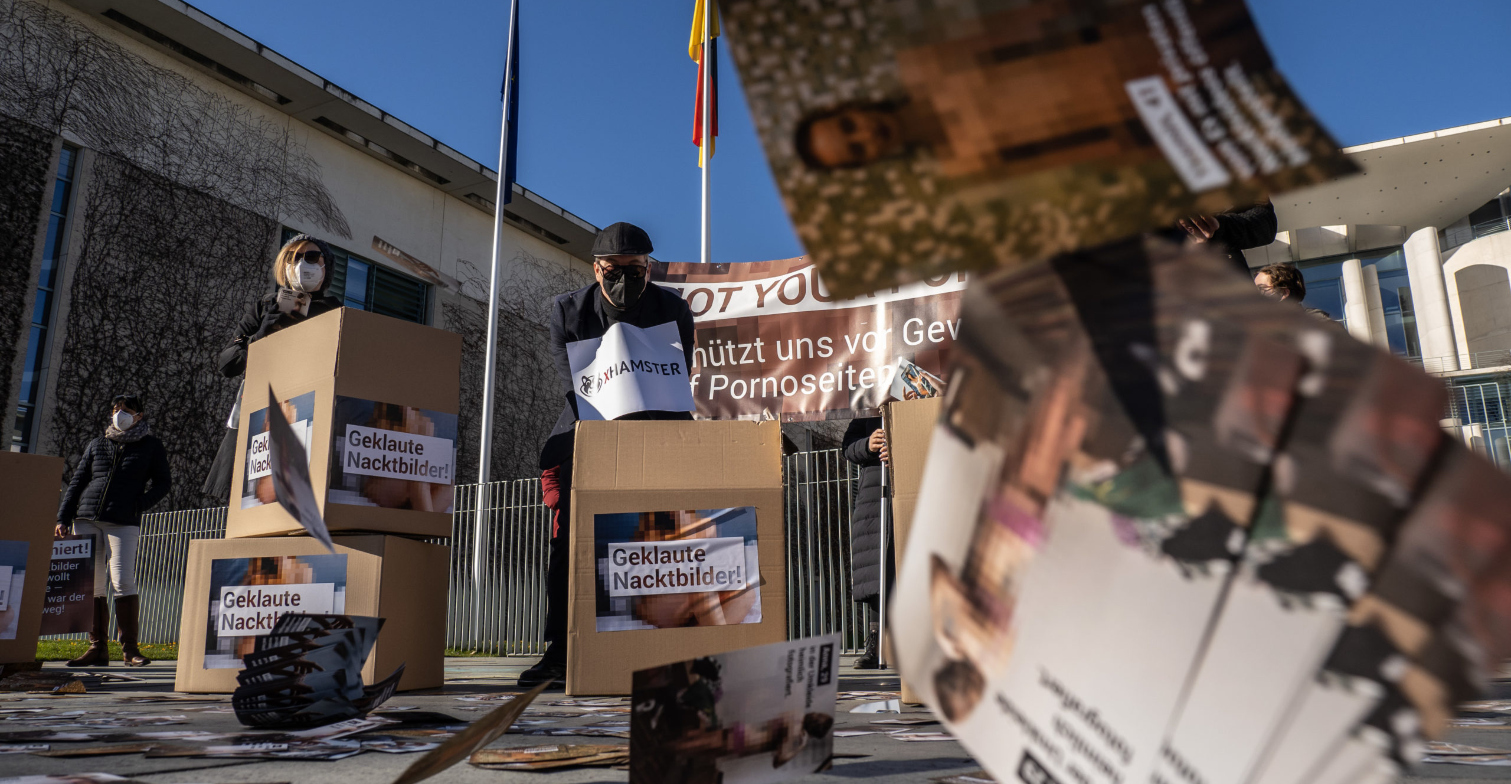 Don't look away – Make image-based sexual abuse stop!
Last round of political negotiations on the EU Digital Services Act this Friday, April 22, will be decisive for thousands of women who currently are unprotected from nonconsensual sharing of intimate images on porn sites. The European Parliament, led by DSA rapporteur Christel Schaldemose (S&D, Denmark) and the Council, led by the French Presidency its Digital Minister Cédric O, now have it in their hands to include in the law the Article 24b, that can effectively protect victims.
For years, porn platforms have profited from the abuse, having no accountability, and providing no support to affected persons. The consequences for victims are devastating: Shame, isolation, psychological stress and even suicide – making a clear cut between the life "before" and "after" their privacy and bodies have been violated.
With the DSA Article 24b the EU can set a minimum standard for protection of victims on porn platforms – with dedicated reporting channels, qualified content moderators and verification obligations for the content uploaders. The EU can make it a real turning point.

Make this a Game Changer!
This Article can be a game changer that not only empowers women to defend themselves against the abuse, but also makes sure that less abusive material is shared, and perpetrators who are responsible for the non-consensual spread of intimate images no longer hide in anonymity.
Our message to the decision-makers in the negotiation room on April 22 is clear:
We are calling on MEP Christel Schaldemose to stand strong and persist on the inclusion of the full Article 24b in the Digital Services Act! The European citizens and 214,000 petition signatories count on this necessary step for women and others affected by the mass distribution of stolen and manipulated nudes. Therefore, in accordance with the European Parliament's position we demand: verification for content uploaders, qualified reporting procedures, and moderation by trained personnel.

In this crucial moment, French Presidency and Mr Cédric O has a chance to step up and show leadership. Not only reaching an agreement on a historic law, but reaching an agreement on a law that includes proper safeguards against some of the most ravaging online crimes. Without it, the EU would miss a mark and turn its back to half of its population.
Make the DSA a game changer for victims of image-based sexual abuse,
make this a reason to celebrate the EU!
Do you want to take action against image-based abuse?