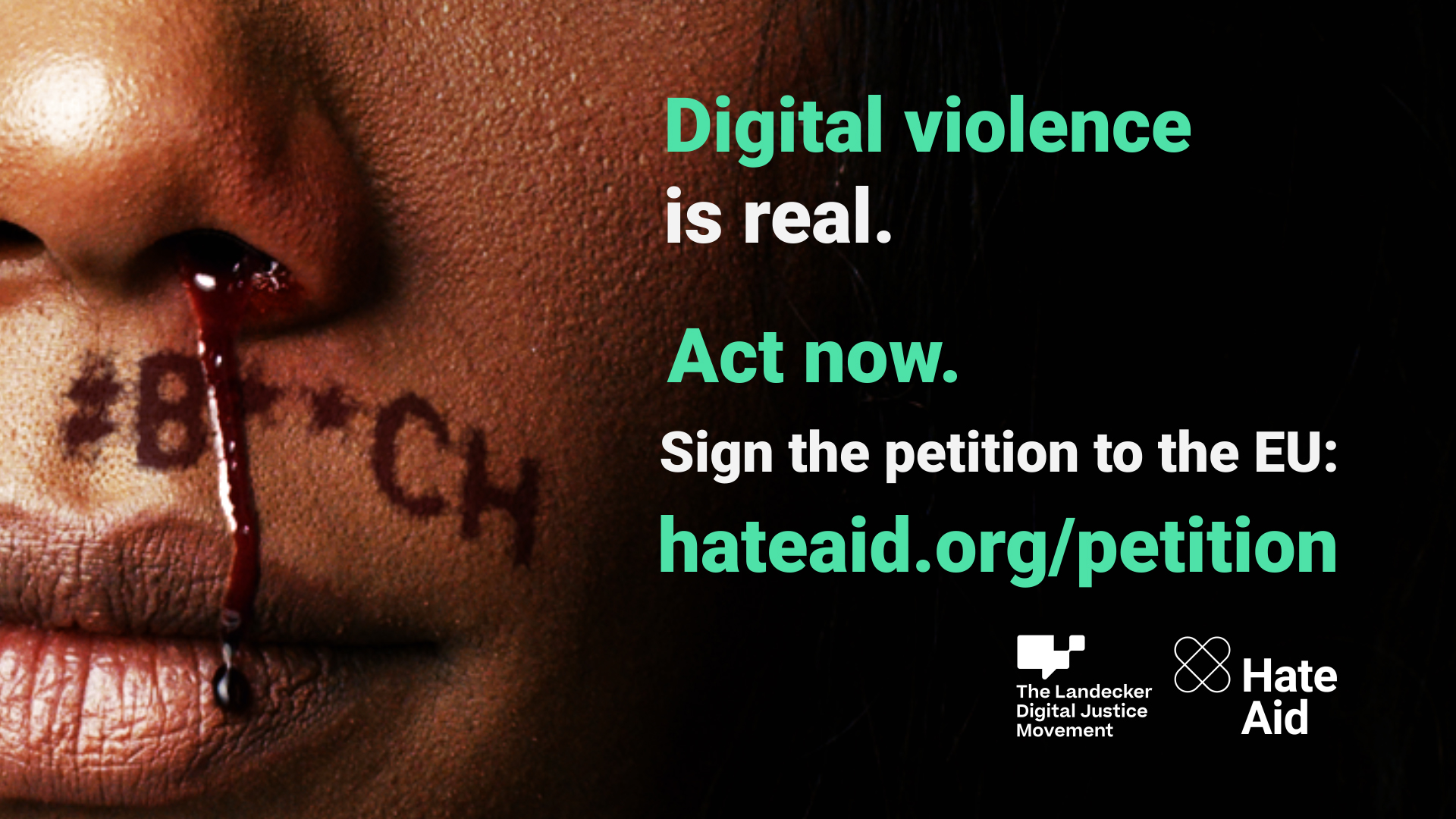 Stop violence against women online! HateAid calls on the EU to act. Join us!
Insults, threats and sexual harassment: Every second young woman has become target of digital violence on social media. It can hit us, our friends, mothers and daughters at any time! Facebook, Twitter and online platforms alike have so far done too little to combat hate on social media. With a new EU law, the Digital Services Act (DSA), in-making, EU law-makers now have the opportunity to put an end to this nightmare. However, the current draft proposal barely takes victims of hate and violence into account.
That's why we are getting loud: With thousands of signatures for our petition from all over Europe, we want to appeal to our representatives in the European Parliament in Brussels. They must finally regulate online platforms to stop hate and violence. For this we need you. Sign our petition now!
Open Letter to the Members of the European Parliament:
Shape the DSA so it can empower all users to act against wrongful platform decisions!
The open letter was delivered to Members of the European Parliament on Friday, 3rd of December, in the light of ongoing DSA negotiations. The Internal Market and Consumer protection committee is expected to vote on the DSA on 13th of December in an extraordinary committee meeting.
When the nightmare becomes reality
Imagine hundreds of notifications popping up on your phone out of nowhere. You wonder what's going on. Finally you realize that someone has published a meme with your photo featuring a dramatic misquote. Thousands have already seen the post and hundred commented on it, among it awful comments, threats and calls for rape. As quickly as possible, you try to have the images removed from the web and report the post to the platform. And then … you hear nothing from the platform's support. The photo and the comments remain, your helplessness, shame and fear of the aggressive unknown perpetrators get worse every day.
Anyone can become a target of digital violence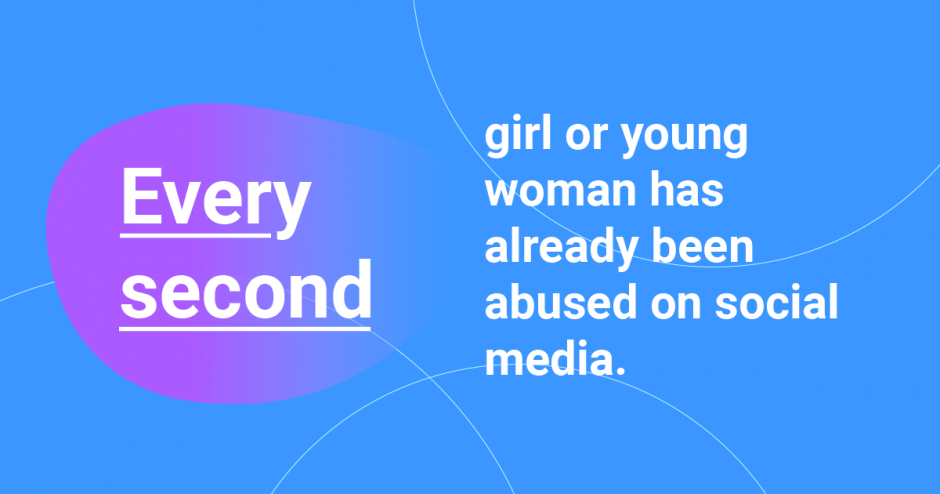 It can happen to anyone! Women and girls become targets of digital violence in social media. Hate speech, insults and sexualized threats of violence on the internet have become the norm. Their private addresses are leaked. Secretly filmed videos of women and young girls are distributed en masse on porn platforms. According to a survey, one in two women in France is afraid of having nude photos of herself published without consent. Nine out of ten women report that digital violence affects their well-being. One in four victims reports poorer performance at school or at work because of online attacks. More than one in three suffer from depression as a result of digital violence. This must change now!
Victims of digital violence are left alone
It is made difficult for those affected to defend themselves against digital violence: Those who report posts often wait a long time, if not in vain, for a reaction from the platforms. In a recent analysis by HateAid and Reset, it was proven that every third reported, manifestly illegal comment on Facebook remains online.
Despite all the demands, the online platforms have not yet implemented effective protection options, instead prioritising their profit. EU politicians can stop this abuse now! Because your digital rights and the regulation of online platforms is currently being negotiated in Brussels.
Digital Services Act: The new rules for the internet

A new EU law, the Digital Services Act, which is currently being negotiated, is intended to create more security and responsibility in the digital space. With the DSA, EU policymakers now have a unique opportunity to enshrine clear rules to put an end to violence. So far, they have not done so, leaving women and girls systematically unprotected
Time is up! We confront our EU politicians!
That is why HateAid, together with other European initiatives, is calling on the international petition "Stop digital violence against women! #makeitsafe", HateAid and six other European initiatives are calling on the EU to give in. Until the end of the year, EU citizens are called upon to support protection against digital violence by signing the online petition.
We bring your voice directly to the MEPs in Brussels
HateAid will bring the voices of thousands of EU citizens to Brussels and demand effective measures to protect against digital violence. Our EU politicians should now use their opportunity in the negotiations for the new EU Internet law and guarantee protection for women and girls on the Internet!
The EU politicians can no longer ignore us, because we bring your voice to Brussels! We will deliver the petition to the European Parliament and demand our rights: #PowerToTheUsers! The more signatures we collect, the louder our protest against the inaction of social networks will be. Sign our petition and be part of the movement.
We demand: A safe web for women and girls!
We demand:
Take down stolen nudes! We demand effective measures to prevent the frequent abuse of intimate images EU-wide.
Oblige online platforms to remove illegal content! Reported illegal content must not continue to remain online for months.
We want to have a say! Users must be able to decide which system is used to display posts in social media.
Enable legal action for all! We want to be able to defend ourselves – without having to plunge into financial ruin! Legal proceedings must become cheaper and simpler.

Simple reporting channels! Users need easy-to-reach contact points for complaints to online platforms in every country.
Digital violence is real! Politician Gollaleh Ahmadi suffered from panic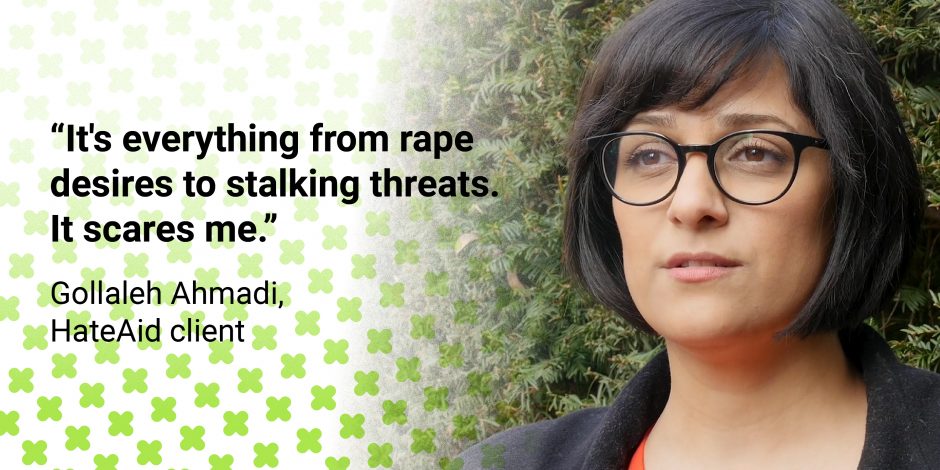 "From rape desires to stalking threats, it's all there. It scares me," says HateAid client and politician Gollaleh Ahmadi. This fear is just one consequence of digital violence. Every second women even withdraws from social media because she no longer has a way to protect herself. The latest revelations around the Facebook Files show: Facebook and platforms alike know the immense damage they are doing. What do they do about it? Nothing. Instead, the platforms promote polarization and scandalous content in order to bring in more money through advertisements. In return, they deliberately accept hate and incitement. We have to stop this!
Members of the European Parliament are now laying the foundation for your rights and your ability to fight back against digital violence. Let's show the EU that we mean what we say. Our generation now has a unique opportunity to make the Internet a safer place. We need you to do it!
The campaign "Stop violence against women online! #makeitsafe" as part of the Landecker Digital Justice Movement is an initiative of HateAid funded by the Alfred Landecker Foundation.

---